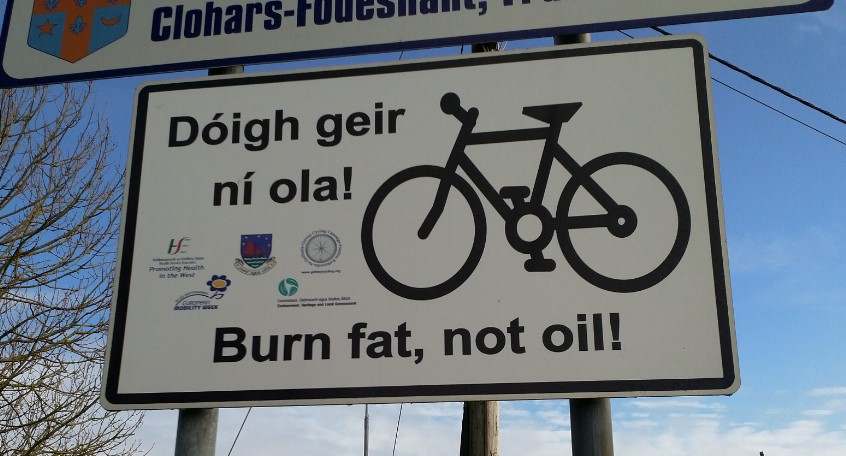 Before Covid struck this year, I hadn't cycled in a very long time (think decades, not years). So, it was a bit of shock when I found myself unexpectedly contemplating getting back on a bicycle this summer. I could, and do, blame (or credit) Covid lockdown for triggering the cycling bug.
When the first lockdown happened in March 2020, I didn't feel too much of an urge to do anything drastic. But when lockdown came around for a second time, I knew something had to give. I tried running, but the footpaths near me are uneven, narrow, full of puddles, potholes, and pedestrians, not to mention prone to disappearing at inopportune times, particularly on dangerous corners where traffic speeds up.
Then a friend of mine mentioned that she'd bought a bike and I thought "I could do that!". I started shopping around online, checking out prices. The first thing I discovered is that bikes are not cheap. Ok, they aren't anywhere near the cost of a car, but for a new hobby, they seemed pricey. What if I bought a new bike and three months later discovered that I hated it?
I decided that I would buy a fixer-upper and that if I liked cycling, I could buy a new bike later on. If I didn't, then I wouldn't have spent too much money and I would have had a fun time trying to fix it up. I spent a few weeks browsing Adverts.ie trying to find something that would suit. I didn't want a mountain bike. I knew that much for sure. I didn't want a racing bike. I had no intention of doing anything remotely competitive in terms of cycling. For all I knew I'd spend most of my first few times being laughed at by local kids as I fell off the darn thing. Eventually I saw a rusty looking old-fashioned red city bike, with a basket on front. Mary Poppins style! Perfect!
I bought the bike, jammed it into the back of my car (scraping the paint!) and brought it home. I then did absolutely nothing with it for a few days while I watched multiple YouTube videos on how to remove rust from bikes, how to clean chains, how to tighten brakes, etc. Nail brushes, steel wool, metal brushes, grease remover, cleaning wipes, disinfectant, vinegar, newspaper, I used them all. There is however something very mindful and soothing about fixing something up. Maybe it's the panic that goes with Covid, but having to slow down your pace, and repetitively clean something, is actually strangely soothing after a while.
Now if I was a mechanic, or had a little more muscle strength, I might have been tempted to go down the whole take-it-apart-put-it-back-together-again route, but I know my limits. I wouldn't know whether brakes were safe, or just about to go, or if the wheels would buckle on their first run around town. For that, I'd need an expert. Having scrubbed it up to the point where I wouldn't be ashamed of it, I took it into the team at An Meitheal Rothar to get it checked for safety and to find out if there was anything that needed replacing. For €75 they overhauled it, replaced the brake lines and rubbers and checked tires, frame and functionality. One bike, ready to ride!
I can't explain how incredibly freeing it feels to get on a bike as an adult after years driving a car. The feel of air on your face, knowing that all the motion is coming from your own energy, it's exhilarating. Pedaling along to the shops may not be a big deal if you're someone who has always cycled, but realising that I didn't have to battle through car parks, and that I could just nip down to grab a litre of milk by bike was liberating. Cycling along the coast and smelling salt air while your hot chocolate sits in your bike basket waiting to be sipped when you reach your destination is glorious. And yes, I'll never be the kind of person who cycles coast-to-coast or plans out a 200km cycle route. That's fine. For me, just being able to leave the car at home most days and take the bike is more than enough.
PS – I did end up having to replace both tires after an unfortunate incident with a nail. Roads near construction sites are hazardous to bike tires!
PPS – I changed the saddle to one more suitable for women – memory foam moulding and the gap in the middle make for a much more comfortable journey. I highly recommend female-specific saddles to any woman who cycles.
PPPS – If you have a small head, "standard" unisex helmets which start at 56cm and expand up to 61 or 63cm are too large. Yes, they have adjusters. No, that won't stop your head banging around in the gap between the foam and the adjusters if you fall off. Take the time to locate and buy a helmet with a 52-56cm circumference.
PPPPS – Bike baskets are the best thing ever!
Guest post, by Caro Ni Ruadhain