The Middle Aisle
We got a bike trailer years ago from the middle aisle of Aldi. Using it in normal Galway traffic never seemed like an option, so it got folded away in the shed with all the other things from the middle aisle of Aldi. My partner Jess has a racer from the bike-to-work scheme, and I have a really tough steel-framed Trek bike we bought 2nd hand from a bike hire company. These were both fairly underused since the kids arrived.
When lockdown started in 2020, we had kids aged 2 & 3. The playgrounds were closed and a lot of our usual activities were off-limits. But we were within 2.5km of Galway city centre, there were no cars on the roads, and the weather was fine. So in went Jess to the shed, and right there, under the fondue set and some gardening tools, she found the bike trailer. We assembled it and pumped up the tyres. We figured out how to hitch it to the bike. We found that the kids were able to fit comfortably side-by-side, and it has a boot, with space to carry all the stuff you need when out & about with smallies.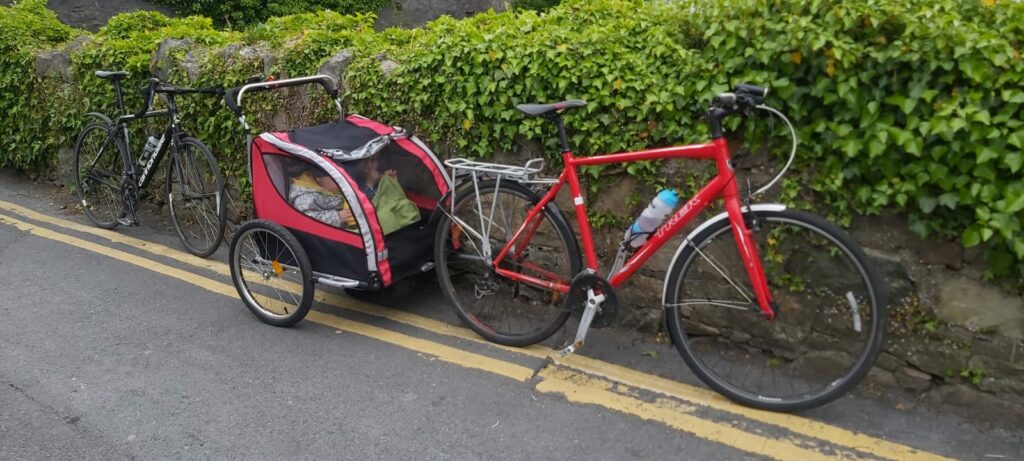 Our young family took advantage of quiet streets, and set off exploring. After a couple of months, I thought we must have cycled every single m2 of our (π x 2.5 x 2.5) km2 – but it's amazing how many laneways there are that you never really noticed before, and I'm still discovering new ones a year later.
Outgrowing
By the middle of the summer, we noticed that the kids were starting to get on each others nerves in the trailer. Like all 2- and 3-year-old kids, these ones were growing – fast – and they were no longer comfortable squished into the trailer for anything but short journeys. We had a child seat from Decathlon, but again, we'd never found much use for it before. But by now we were hooked on cycling, and so out came the child seat, and we could continue to feed the addiction.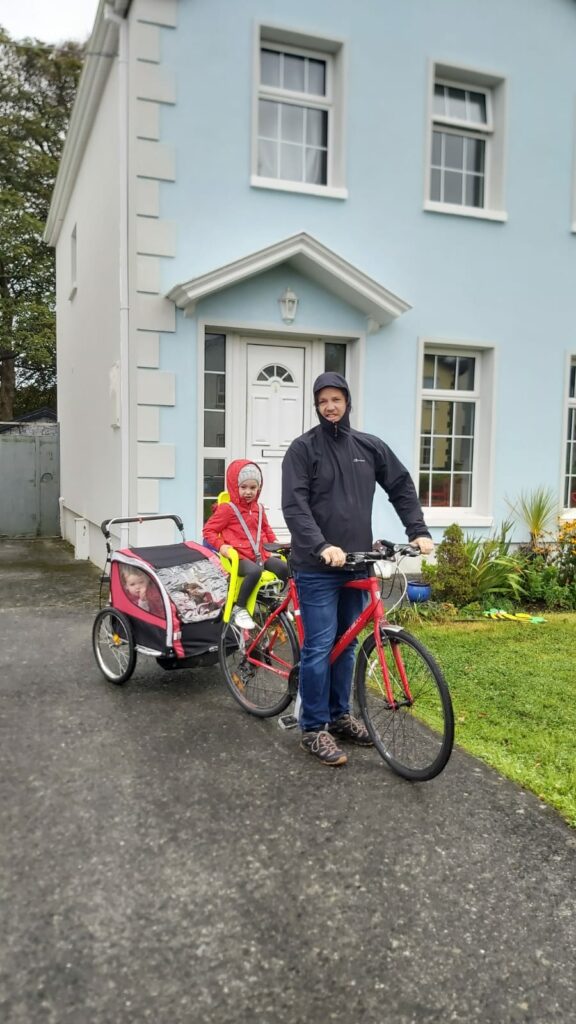 We still own a car, but it's mostly parked in the driveway now, with moss growing on it.  All summer long, trips to the beach at Salthill or Ballyloughane, trips to Merlin Woods or Uncleens or Anteens…  If we could get there by bike, we would.
Starting School
Come September, we had another big change. Our now 4-year old girl was starting in naíonra. It's about 1km from home, and since both me and Jess are working from home now, we figured we'd try cycling to & from school. I'm even able to bring my 5-year-old nephew most days. Off the bike, he is very good at ignoring me when it suits him, and he has the attention span of a… well… of a 5-year-old. But when we're cycling, his ability to stay focused is amazing. I think he knows that cycling is special. Not many other kids in his class commute by bike. If its raining, we cycle, and it's always a pleasure. If it's really windy, we drive. I'm amazed now at how stressful it is to struggle in traffic with kids in the car, and then fight for parking. We only had to do it three times, but each time, its such a pain.
Trial and Error, and the "shuffle-hop"
Most bikes have a crossbar, and to get on or off, you swing your leg over the back wheel and the saddle. So simple & quick you do it without even thinking of it. But when there's a child sitting there, that particular manoeuvre is off the menu. I know this, thanks to trial-and-error (and a severely unimpressed 4-year-old daughter). So instead, you (deeply ungracefully) sort-of rest one foot on the crossbar and then sort-of hop on the other foot, shuffling your body onto the bike without kicking anyone. This shuffle-hop is seriously undignified, so I'm always hoping that there aren't too many people around to see.
Through trial and error, we've also figured out a good route to school.
Stay away from cars as much as possible
Avoid kissing-gates (1 kissing-gate = 2 shuffle-hops)
Use footpaths when we need to
Time the journey so those footpaths will be quiet
Trial and error is important. In figuring out how to cycle with kids, we've stepped outside our comfort zone again and again. Pretty often, you'd try something out, and it doesn't go as planned. Those times are important learning experiences. One school morning, with my daughter strapped in on the back of my bike, and my nephew beside me on his… we're going fast downhill, and he has an unplanned dismount at speed. I don't have a kickstand, and we weren't near a wall. So before I could go help my nephew, I had to: 1. shuffle-hop off the bike, 2: unstrap my daughter, 3: unstrap each of her feet, 4: lift her down: 5 drop my bike in the grass. This is a long time while your nephew is on the ground, sore, and very upset, and you don't know how bad it is.

It's ok. He was fine. A cut knee, and he got back on his bike & cycled the rest of the way to school. But that was the end of the shuffle-hop. It was time to buy a new bike.
N+1
An e-cargo bike would be awesome, but there's kissing-gates in every direction from where we live, so it just doesn't suit us.
We needed a bike with a step-through frame (no crossbar). Puzzlingly, this type of bike is called a "Ladies bike" by almost all retailers. I still can't understand the link between owning a vagina and not needing a crossbar. I think it might have something to do with crinoline. My partner & I are both on the tall side, and all the "Ladies bikes" for sale in Ireland are way too small. Dutch people are tall, and they have very sensible bikes, so we knew we wanted a Dutch bike. But while Dutch people may be high, their hills are not. Netherlands is so flat that the only reason you need to change gear is when the wind changes direction. It took a long time to find the only Dutch bike for sale in Ireland that's big enough, and has more than 3 gears. It's the BSP Metropolis+, and we got it from www.dutchbikeshop.ie. It cost over €800, but with the bike-to-work scheme, that is a lot less painful. It took a long time for the bike to be delivered. In fairness, I think bike sales are booming, and retailers are struggling with changed work-practices due to the plague.
Cycling this bike is very different from cycling I've done before. You are sitting in a different position, and using different muscles. It took a good while to get used to it. But I love it.
I've had to replace the kickstand with an Ursus Jumbo Kickstand. This is has a wide base so the bike doesn't fall over when you're loading or unloading a child. It's the best €40 I've ever spent. If you are thinking of getting this bike, be sure to get the "Family" edition, where the only difference is that it already has the Jumbo kickstand. I've found that over the last year, by far the most reliable source for bike accessories is www.hollandbikeshop.com. They seem to have a wide range, huge stock, competitive prices, and everything gets delivered straight away by courier.
Now springtime 2021 is rolling around, and the kids (now 2 & 4) are often happiest on their own bikes. We have 2 child seats now, and a common routine is to load the kids onto the bike seats and load their bikes onto the trailer, and go to somewhere that they can cycle to their hearts content – Merlin Woods, Uncleens Woods, NUIG to Dangan riverside path, Terryland Forest Park.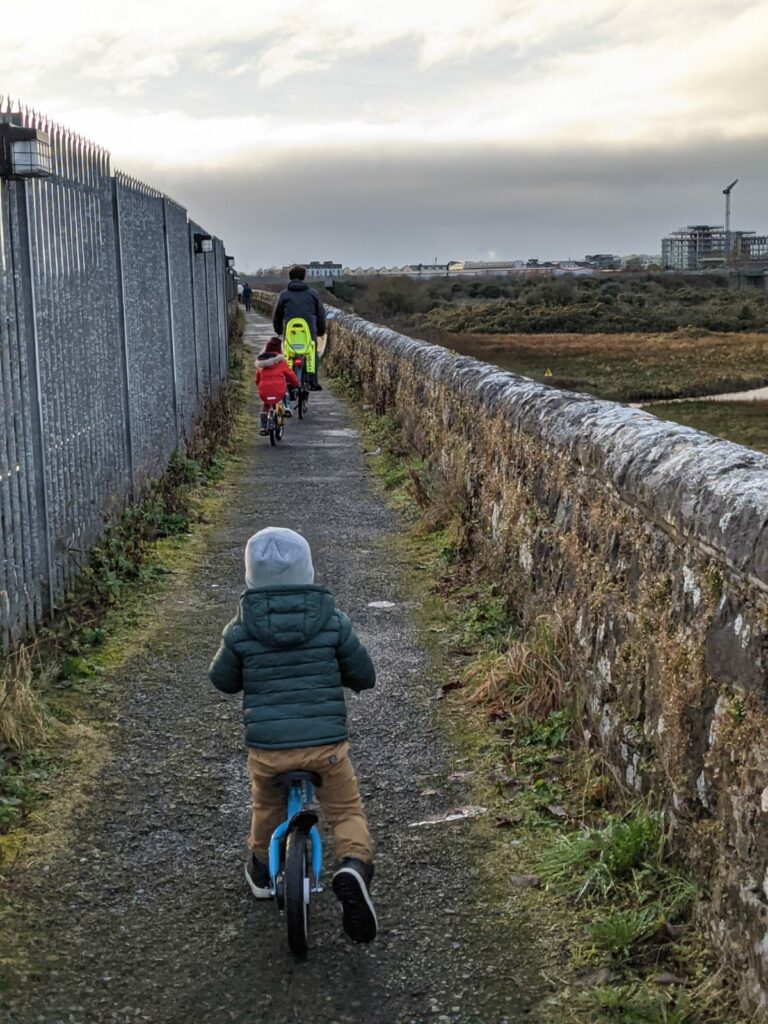 Guest post, written by Joe McGinley.